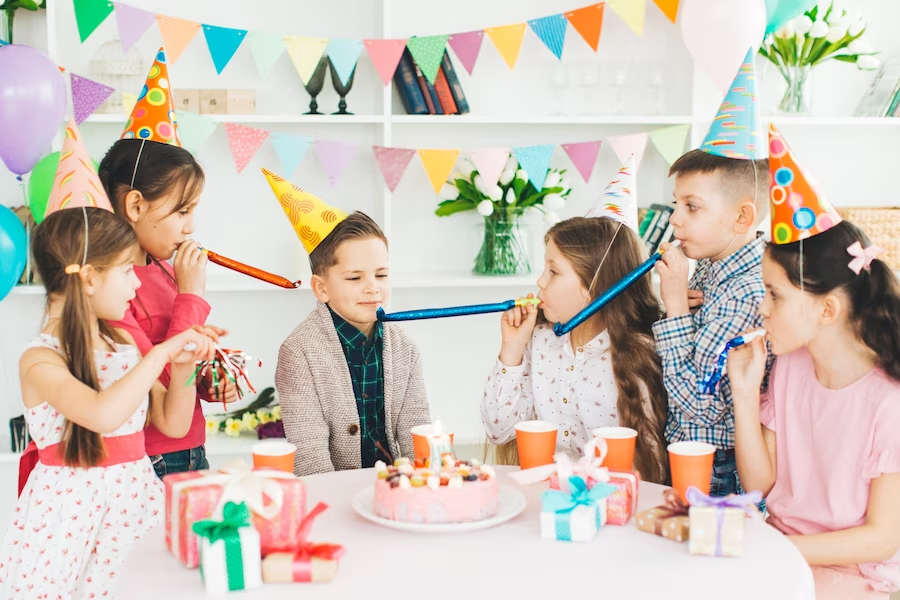 Birthday Party Ideas
Your child's birthday is a special occasion that deserves to be celebrated, but when your budget isn't seeming so friendly, it can feel overwhelming and stressful trying to figure out how to make it happen.
Not only do you want to make it something special, but you also want to keep the costs down. Pulling off a fun, memorable children's birthday celebration without breaking the bank is possible. Here are 13 tips on throwing a kids' birthday party on a budget that will help you save money while still making sure their big day is full of amazing memories.
Best Tips For Throwing Kid's Birthday Party
Though birthday parties can be lots of fun and a great way to celebrate a child's special day, they can also be quite stressful. Your child's birthday party should be an enjoyable and stress-free event for everyone involved. Generally, a cheap birthday party idea or a homemade birthday party is the best way to go. Below are tips for throwing a kid's birthday party that will be a hit with both children and parents:
Make sure to set out a budget beforehand
Before planning your child's birthday party, it is important to set a birthday budget. This will help ensure you don't get too carried away with planning the event. However, party decorations and entertaining activities do not need to be expensive. You can find a number of affordable and creative ideas online or use inexpensive items you already have at home. As we all know, children often prefer activities over expensive items.
Plan Ahead
Planning your child's birthday party as early as possible will help you save money, time and energy. This way, you can take advantage of any deals available and order items in bulk. You can also plan the activities ahead of time, so you know what supplies you'll need to purchase. Furthermore, planning ahead will ensure that you don't forget anything important and you can relax on the day of the party. Moreover, last-minute planning usually leads to expensive mistakes, so avoid it if possible.
Choose an inexpensive venue
In order to save money, consider hosting your child's party in the comfort of your own home. This will help keep costs down while ensuring everyone has a great time. Alternatively, community centers and local parks are usually inexpensive or free options that can accommodate a larger group of party guests. However, you can use digital invitations instead of paper invitations to avoid printing costs.  If you want to cut costs, try teaming up with other parents and buying party supplies in bulk. You can share the load among yourselves and still have enough for a great time!
Budget-friendly themes
Choose a budget-friendly theme and come up with creative, inexpensive decorations. Easy themes like Ocean Life or Safari Animals are great for any age and will surely spark your guests' imagination. Making your own decorations is also a fun way to save money. You can create banners and other items with old magazines, newspapers, scrapbook paper, etc. Moreover, themed-birthday-party games and activities are a great way to keep the kids entertained without spending too much.
Set up a few simple activities
Simple games and activities will help keep the party fun and exciting. This can include classic party games such as pin the tail on the donkey, musical chairs, obstacle courses, or scavenger hunts. You can also set up an area for children to play with toys or host a movie night. Moreover, hiring a clown or face painter is always a great way to bring extra fun and excitement to the party. Also, to cost cutting, you can look online for activity-free printables or create activities yourself at home.
Ask family and friends to help
Inviting family and friends to help out at the party is a great way to cut down on costs. You can ask them to bring food, drinks, cake or decorations. This will help with the budget and provide valuable assistance during the planning process. Moreover, people often feel more involved in the party, and their help can be invaluable during the event. As well as bringing food, drinks and decorations, family and friends can also help with party setup and tear down. Family and friends are also great sources for finding affordable supplies for entertaining activities or decorations.
Don't party at a mealtime
You will save on food costs by hosting the birthday party at a time other than mealtimes. If possible, schedule your event for before or after lunchtime so that snacks and drinks are all that are needed. You can get creative by creating fun finger foods like mini pizzas, or sandwiches cut into shapes with cookie cutters. It will help keep everyone energized without having to provide a full meal. Moreover, you can also opt for a potluck setup with each parent bringing an item or dish.
Make the activity the party favor
Instead of buying expensive party favors, host activities children can enjoy and take home with them. This could be a homemade craft, such as decorating their own cake or making an easily transportable item like an art project. It'll help keep the party organized, give your guests something to do throughout the duration of the event, and create lasting memories for everyone involved. Moreover, party favours that can be enjoyed by all the attendees (like bubbles or colouring books) are a great way to save money and give your guests something to take home.
Shop online from discount stores
Consider shopping online from discount stores if you're looking for ways to save money on your kids' birthday party. Save a bundle when you shop for decorations and party supplies at party stores like a dollar store! From balloons to streamers, paper plates to cups, tablecloths to party hats—not forgetting snacks—you can outfit your entire gathering without breaking the bank. However, specialty stores also offer unique items that can add to the atmosphere and make your child's party extra memorable. As well as finding great deals on birthday party decorations, you can buy costumes or dress-up items from discount stores.
Bring the party outdoors
Backyard barbecues are a great way to save money on your child's birthday. This can be especially true if you live in an area with nice weather during the summer months. Set up fun outdoor activities like a water balloon fight, tug of war, or other yard games that will keep the kids entertained. You can also give out simple prizes such as bubbles, temporary tattoos, and candy. Moreover, if you have enough space, you can even set up an outdoor movie area with a projector or TV screen.
Keep a small party
Inviting too many people can quickly increase the cost of your child's birthday party. If your budget is tight, try to limit the guest list to just a few close family members and friends. Keeping it small will also make it easier for the adults in attendance to manage any kids that get overly excited or out of hand. Plus, having fewer attendees may make it easier to plan activities and provide snacks and drinks. Moreover, fewer guests mean you can also plan special and memorable activities for your little one.
Don't be crazy about goody bags
Goody bags are often one of the most expensive aspects of throwing a kids birthday party. Instead, choose one item that will be meaningful to each child, such as a book or small toy. Or you could make something special for them, like a personalized card with an encouraging note inside. This eliminates the stress and expense of goody bags and makes each guest feel special. Moreover, you can also opt for an interactive game or activity to keep kids entertained and engaged throughout the party.
Try free entertainment
A birthday party should be fun and exciting, so entertainment is an important part of the event. However, you don't need to spend much money on expensive activities or special entertainers to keep your guests engaged. Consider free outdoor activities like hide-and-seek, tag or scavenger hunts. You can also set up board games and play music for dancing. Additionally, many libraries also offer age-appropriate activities that can be fun and budget-friendly. Alternatively, consider homemade activities such as making your own play-dough or painting rocks.
The Last Word!
Throwing a birthday party on a budget is possible with a little bit of creativity and ingenuity. With these 13 tips, you can throw an amazing birthday party that your child will never forget – without breaking the bank. Do you have any other tips for throwing a kids' birthday party on a budget? Share them in the comments below!